Sign In | Become a Member | Contact Us
Press release from the issuing company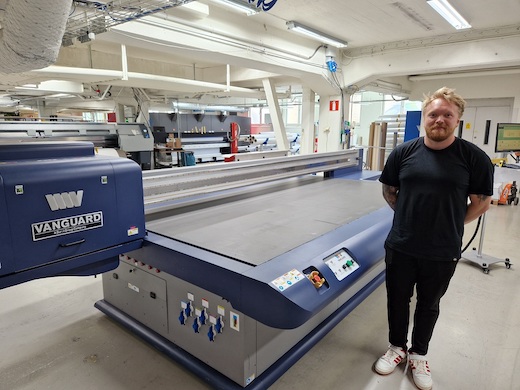 Screenbolaget Production Manager Oscar Lagerstedt with the new VK300D-HS series high production LED UV flatbed printer.
Brixen, Italy – Changing market requirements and a need for fast job turnarounds with high volume digital production were crucial in Screenbolaget AB's decision to invest in another award-winning system from Vanguard Europe GmbH. One of Sweden's major suppliers of profile advertising and action marketing products, Screenbolaget has become the first European customer to invest in the new VK300D-HS series high production LED UV flatbed printer with 10 printheads.
Screenbolaget, a €12 million-turnover company organically growing by around 7% a year, employs 42 staff in Stockholm. The Vanguard is the fifth machine it has purchased through distributor Marabu. "Until this summer around 90% of our work was roll-to-roll and 10% was flatbed," said Patrick Nermark, CEO of Screenbolaget. "But flatbed volumes quadrupled going into the Swedish elections in September, and these are still more than at least double since then.
"We could not have taken on all this extra work without investing in a Vanguard machine – our fifth through our partner Marabu, with whom we have a very long and strong relationship. Vanguard has an excellent reputation. It produces state-of-the-art machines and heads with a huge volume capacity. The VK300D series is a rigid, stable machine and has been a revolution. It is at least five times faster than our old machine. Now we have a lot more business opportunities."
Yiannis Apostolidis, Business Development Director of Vanguard Europe, said: "Vanguard's printing systems have achieved significant global growth, which we are now delighted to be mirroring within countries such as Sweden and across Europe. We are looking forward to continuing to develop our working relationship with Screenbolaget, one of our growing number of customers who are benefiting from our state-of-the-art systems that open new doors for business growth. We provide comprehensive service and support as part of the package."
Formed in late 2021, Vanguard Europe is the European subsidiary of Vanguard Digital Printing Systems Corporation, which has its global headquarters in Lawrenceville, Georgia, USA. The company has its European base in Brixen, Italy, near to parent company Durst Group's global headquarters from where it coordinates a distribution and service network through resellers, distributors, and other partners. Vanguard Europe serves flatbed and UV production entry- and mid-level markets.
The VK300D-HS UV flatbed machines covering mid-and high end-range performance spectrums was launched at FESPA in May. Built on the multi award-winning VK300D series – winner of the Specialty Graphic Imaging Association's (SGIA) Product of the Year for four consecutive years – this fully featured flatbed incorporates a high-speed electromagnetic drive system that propels the carriage at speeds of up to 1.8m per second for 60 boards an hour.
Join the discussion Sign In or Become a Member, doing so is simple and free
More Video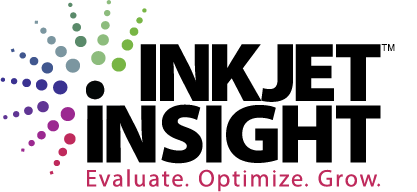 Visit InkjetInsight.com
Contact Us
Member Center
Renew membership, reset password, set email and notification preferences
Submit Your News
Sponsorship Programs
Media Planner
Syndication and News Licensing
Reprints
Privacy Policy
Terms
BECOME A MEMBER TO RECEIVE ACCESS TO EXCLUSIVE COMMENTARY AND ANALYSIS, INDUSTRY DATA, AND MARKET INTELLIGENCE IMPORTANT TO INDUSTRY EXECUTIVES.
About WhatTheyThink
WhatTheyThink is the global printing industry's go-to information source with both print and digital offerings, including WhatTheyThink.com, WhatTheyThink Email Newsletters, and the WhatTheyThink magazine. Our mission is to inform, educate, and inspire the industry. We provide cogent news and analysis about trends, technologies, operations, and events in all the markets that comprise today's printing and sign industries including commercial, in-plant, mailing, finishing, sign, display, textile, industrial, finishing, labels, packaging, marketing technology, software and workflow.
© 2022 WhatTheyThink. All Rights Reserved.